Virtual Multiplier Event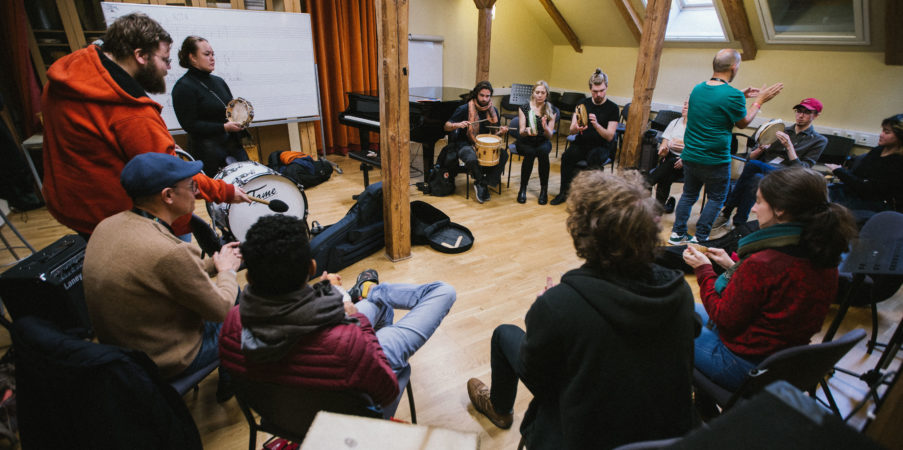 Registration is now open for the TUNE Virtual Multiplier Event, "TUNE Connecting Folk: International cooperation and exchange through higher education in traditional music", which will take place online on May 5, 2023.
TUNE (Traditional Music Undergraduate Network in Europe) is a 3-year Erasmus+ Cooperation Partnership project (2021–2024) that aims to promote strategic cooperation between five European higher music education institutions through the development of an innovative joint module in traditional music based on blended mobility.
As the first of three Multiplier Events, this online event will consider the results following the completion of the first phase of the project: three "Intensive Weeks" and the development of digital educational content and an online learning platform. The progress of the joint module will also be presented and discussed.
Key questions to be addressed will include:
How does international cooperation and exchange in the field of traditional/folk music higher education foster the development of intercultural undertanding?
What musical and social skills do students and teachers need to develop in order to foster intercultural understanding?
How can we create environments of real intercultural interaction and community-building that have long-term effects for our students, and for teachers?
How can we facilitate staff-based knowledge exchange within the field of traditional/folk music higher education?
Programme
(All times shown in CET – Central European Time)
Time
Topic
10:00-10:45
About TUNE
* Welcome, introduction to the TUNE project (Laura Ellestad, University of South-Eastern Norway)
* Joint module (Luís Costa Vázquez, Higher Conservatory of Music of Vigo)
* Online platform (George Kokkonis, University of Ioannina)
* Intensive weeks (Per Åsmund Omholt, University of South-Eastern Norway)
10:45-11:00
Break
11:00-11:25
Panel discussion hosted by Stefan Gies, Chief Executive Officer of the AEC (Association Européenne des Conservatoires)
Panel members:
* Professor Joshua Dickson, Head of Traditional Music at the Royal Conservatoire of Scotland
* Senior Lecturer Ragnhild Knudsen (University of South-Eastern Norway), Chair of the Nordtrad Working Group
* Associate Professor Unni Løvlid, Head of the Folk Music Department at the Norwegian Academy of Music
11:30-11:55
Student panel discussion hosted by Joan Gatti, student at the University of South-Eastern Norway
12:00-12:30
Break
12:30-13:15
Video screening: TUNE student videos
13:15-13:30
Summary/closing words