Spring living tradition : "Os Maios"
Os Maios is a tradition found in different areas of Galicia which celebrates spring with songs, costumes and floral decorations. Nowadays the celebration has a playful, festive character and includes contests and parades. Os Maios takes place from mid-April to the beginning of June, when vegetation begins to bloom and announces the first fruits of the future harvests.
The origin of this tradition is not known for certain, but from ancient times these events were celebrated in a cyclical manner and are always repeated on the same dates. In the Roman pantheon there are a number of divinities related to vegetation. Later on, Christianity strategically placed on the same dates festivals dedicated to various saints that over time prevailed over the ancient ones until today.
The rites that could be found on Maio's dates are of different types: agricultural , with people blessing their crops; religious, in which arches and carpets made of flowers rest in places the parade passes by, as in Ponteareas and Redondela; playful, the most representative of which are Maios and Maias. This tradition can be found in different places from Galicia like Pontevedra, Ourense, Redondela, Sanxenxo, Marín, Vilagarcía de Arousa, Combarro, Caldas de Reis, Verín… Maios can be human or figurative:
Human Maios: the Maio is a kid covered with flowers and leaves. Before the seventies these Maios were played by boys only, but nowadays girls can also participate
Figurative Maios: the Maio can have a traditional shape (conic or pyramidal) or some other shape (of a monument or people…).
Recently, "artistic" Maios have become all the fashion and there has been a new trend; the "Maios-Ships", which consist in a small ship decorated with flowers and flags. They are exclusive from Marín and Pontevedra.
The songs of the human Maios do not usually mess with ordinary people. They ask for alms (aguinaldo) while criticizing, denouncing and vilifying politicians and people who hold important positions. The songs are usually prepared, but they can also be improvised. Pontevedra's Maios have their own melody, but Maios-ships differ from the others because their melody is similar to a Habanera.
The performance is similar everywhere : one child (who is the principal Maio) is placed in the center and the others (four or six) make a circle around him while keep the rhythm with sticks and singing. They stop when it is the turn of the soloist (principal Maio). Some of the kids around have big sticks which are used to beat the floor. In other areas of Galicia it is usual pandeireta (tambourine) and pandeiro (tambourine without rattles) accompaniment. Sometimes, Maios make reverences or get down into the floor to make fun to the audience.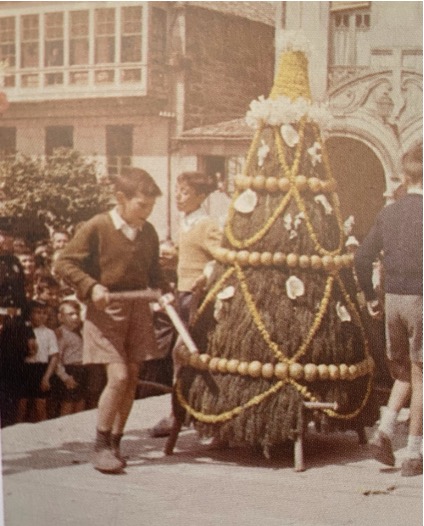 It is important to mention that there are not melodies played by instruments. Probably it is because of the prohibitions along history related to civil power or Church.
Written melodies have been preserved by musicologists and ethnomusicologists like Dorothé Schubart, E.M. Torner, J Bal y Gay, Sampedro y Folgar… who have transcribed these Maio tunes. Thanks to professional people like them and some historians like Clodio González who have worried about documenting this celebration and especially citizens that keep celebrating this festivity, nowadays, Galician can enjoy this symbolic tradition celebrating the arrival of Spring.